Does Travel Insurance Cover Insolvency?
---
---
If you think travel insurance covers insolvency you're not alone. Most travellers expect their insurance to cover airfares, tour bookings and accommodation if a company collapses – but unfortunately, and to quote the Rolling Stones… you can't always get what you want.
Most standard policies do not provide protection for insolvency, collapse or default of airlines, travel agents, wholesalers, cruise operators, tour operators, hotels, car hire companies, railways or theme parks.
Trying to get your head around what insurers mean when they say 'they DO cover for insolvency of a travel service provider', but DO NOT cover for financial collapse of any transport, tour or accommodation provider is tricky to say the least'.
Don't worry it's not all bad news – you can get what you need. You just need to know where to look and that's where we come in. We've put together a table explaining who-covers-what below to make it easier to understand. SCROLL FOR MORE INFORMATION.
Other Articles You Might Like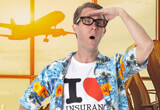 Handy guide for when flights fail!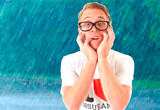 Don't let a cyclone blow your cover!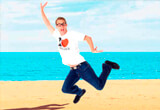 Eugene is here to help with all your curly questions.
Who's Covers financial collapse?
**Click on the plus icon to see more detail**
General Advice Warning: The contents of this article were accurate at the time of writing. Insurers change their policies from time to time, so some information may have changed. You should always read the Product Disclosure Statement of your chosen insurer to understand what is covered and what isn't. The information provided is of a general nature only and does not take into account any personal objectives, financial situation or needs. Before making a decision you should consider the appropriateness of the information having regard to your personal circumstances.
Who's At Risk?
If you're a do-it-book-it yourself kind of traveller and buy your flights direct with an airline then you'll be the most vulnerable when it comes to protection. If you use a travel agent to book your holiday and the airline goes bust, you might be able to get a refund through the agent, or they may be able to help get you home if you're stranded overseas.
Pay With Your Credit Card
Even if you do tend to book your travel arrangements yourself, a good way to ensure protection is to pay using a credit card. The credit card company might be able to recover your money or you might be able to claim under your credit card insurance. Try not to buy your travel arrangements using a debit card as they don't provide the same level of protection.
Help Is At Hand
In some states and territories programs are in place where you may be able to apply for compensation for insolvent companies. Contact the Australian Competition and Consumer Commission for more information.
Read The Small Print
We've simplified the insurers' policy wording in the table above, but this doesn't mean you can get away without reading it. We know it's not a great read but it's really important to understand the cover you're purchasing – so give your insurers PDS a read! If you're not sure that you understand the conditions you can always call the insurer for advice before buying online.
Compare To Find The Right Cover
Shop around for insurance to make sure you are getting the right cover for your travel needs. You can use comparetravelinsurance.com.au to compare over 20 Aussie insurers in seconds. Yippee!
Insolvency
An insolvent company is one that is unable to pay its debts when they are due. The three most common insolvency procedures are voluntary administration, liquidation and receivership.