If you're grounded and have comprehensive travel insurance, you can enjoy the extra days in paradise – but don't splurge on business class flights or six-star hotels if you've been staying in hostels. Insurers often talk about 'reasonable' or 'equivalent' expenses in their coverage. And always get your receipts – take photos of them and email them or upload them to the cloud, just in case.
Many airlines are offering customers flights to alternative destinations, such as Thailand, Malaysia and Tokyo. If you choose to go to an alternative destination, contact your insurer about updating your policy and claiming for any arrangements in Bali you can't get refunded. Otherwise, the airlines may offer rescheduled flights to Bali or refunds - contact them now to find the solution that's right for you.
If you have insurance -
 but won't be able to travel for health reasons related to the volcano, speak to your doctor and get documentation. If they confirm you're unfit to travel, you may be covered. 
If you don't have travel insurance -
 you won't be able to apply for coverage for cancellations or delays related to the volcano as it's a 'known event' - one that is not unforseen or has been widely broadcast. We still recommend purchasing comprehensive travel insurance for peace of mind in the event of loss, theft or medical events.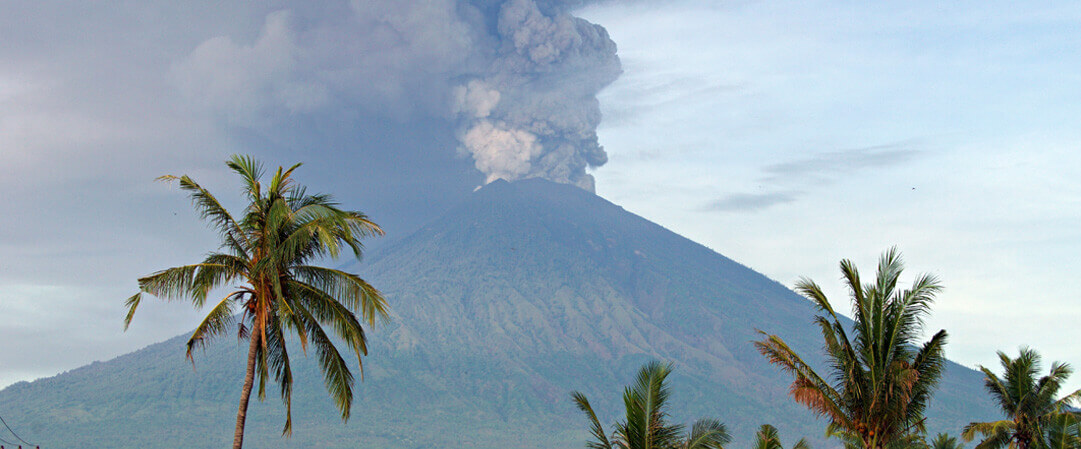 WHAT AM I COVERED FOR?

Medical
: A bout of food poisoning, an unfortunate case of whiplash, a nasty case of malaria. Really anything can happen on your holidays. Luckily your policy will cover the exorbitant expenses of overseas hospital cover.

Cancellation fees and lost deposits
: An unexpected earthquake, an unforeseen accident on route to the airport or a severely sick family member would really put a hiccup in your holiday. Your travel insurance will cover cancellations for events such as natural disasters, accidents, hijackings, severe sickness or injury.

 Luggage and personal effects
: Theft, loss and damage to your belongings is common on trips overseas. Your travel insurance has your back when it comes to pocket pinchers and suitcase snatchers.
 Personal liability:
 If you injure someone or are held accountable for damaged property the consequences could be disastrous, particularly when you are unfamiliar with local laws and regulations. In such an event, your policy will cover your liability costs, to a degree.   
What AM I NOT COVERED FOR?
 

 Unattended items
: Keep a strong hold over all your belongings as leaving your stuff unsupervised will not be covered for.

 Being intoxicated
: Whether your drink of choice is a beer or glass of wine, all claims related directly to alcohol and drugs will not be paid. Have fun in moderation!

 High risk activities:
 From rock climbing to scuba diving, adrenaline junkies are spoilt for choice on their holidays. But watch out, as participating in risky activities may not be covered by your policy.  Be sure to scan your policy's small print to check out which of your preferred heart pounding activities are covered.

 Pre-existing conditions
: As we've already mentioned, pre-existing conditions or disabilities that exist before you travel are generally not covered. Check your policy wording to see what conditions are covered automatically, and which ones require a medical assessment first.